Final Event
16 March 2022 | ONLINE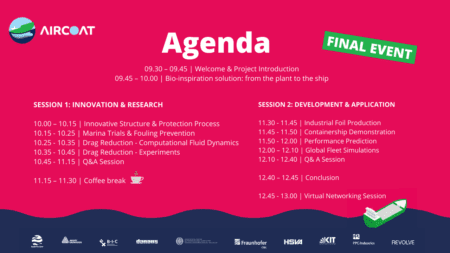 After 4 years of intense work, the AIRCOAT Project is organising a final event to present its research approach, developments and results.
Join us on Wednesday 16 March 2022 from 9.30 AM to 12.45 AM CET.
Considering COVID-19 restrictions, the conference will be only available ONLINE.
This event is open to everyone and free of charge.
We will have also a stand at Oceanology International from 15-17 March at Stand M652. 
09.30 am – 09.45 am | Welcome & Project Introduction
09.45 am – 10.00 am | Bio-inspiration solution: from the plant to the ship
Thomas Schimmel
Professor and Director at the Institute of Applied Physics and co-founder of the Institute of Nanotechnology at KIT – Karlsruhe Institute of Technology & Scientific Coordinator of AIRCOAT
Bioinspired air-retaining surfaces underwater using the Salvinia Effect: from the biological role model to the first artificial air-retaining surfaces describing the discovery and the challenges and thrilling perspectives of a potentially game-changing technology for environmentally friendly ship coating.
10.00 am – 11.15 am | SESSION 1 – INNOVATION & RESEARCH
10.00 am – 10.15 am
Innovative Structure & Protection Process
Bringing the AIRCOAT technology from the lab to the ship: from initial, small and brittle air-retaining samples in the lab on the centimeter scale to elastic foils on the kilometer scale, produced with a novel, specially developed continuous roll-to-roll process.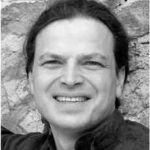 10.15 am – 10.25 am
Marina Trials & Fouling Prevention
Presenting the results of laboratory tests and field tests in Malta, including the small-scale demonstrator experiment in which half of a research vessel was coated with the AIRCOAT prototype foil.
10.25 am – 10.35 am
Drag Reduction – Computational Fluid Dynamics
Physics of drag reduction (DR) of super hydrophobic surfaces (SHS), influence of size/geometry of SHS on DR, and scaling using different types of modelling in Computational Fluid Dynamics. 
10.35 am – 10.45 am
Drag Reduction – Experiments
Presenting the vast set of hydrodynamic experiments undertaken, the challenges faced, and the solutions addressed in the project with a focus large-scale near-operational drag experiments.
10.45 am – 11.15 am | Q&A Session 1
11.15 am – 11.30 am | Coffee break
11.30 am – 12.40 pm | SESSION 2 – DEVELOPMENT & APPLICATION
11.30 am – 11.45 am
Industrial Foil Production
High-level insights will be given on the production of the Aircoat foil: challenges related to the upscaling and solutions we could find. 
11.45 am – 11.50 am
Containership Demonstration
Insights of the installation of the AIRCOAT foil to a commercial vessel. Post-application monitoring plan and evaluation methodology.
11.50 am – 12.00 pm
Performance Prediction
Potential friction reduction and energy savings on an entire ship.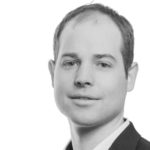 12.00 pm – 12.10 pm
Global Fleet Simulations
Microscopic drag reduction studies with macroscopic modelling provide an opportunity to assess the performance of a micro-structured surface at the global fleet level.
12.10 pm – 12.40 am | Q&A Session 2
12.40 pm – 12.45 pm | Conclusion
12.45 pm – 01.15 pm | Virtual Networking